A $2000 dollar drop at the beginning of the month significantly altered the fundamentals for
Bitcoin
. After breathing down the neck of a probable 2019-high ($13,8oo),
BTC
paid another visit to the $10,000-level. As a result of Bitcoin's fall on the charts, positive market sentiment was disrupted, following which, certain changes were triggered over the next 2 weeks.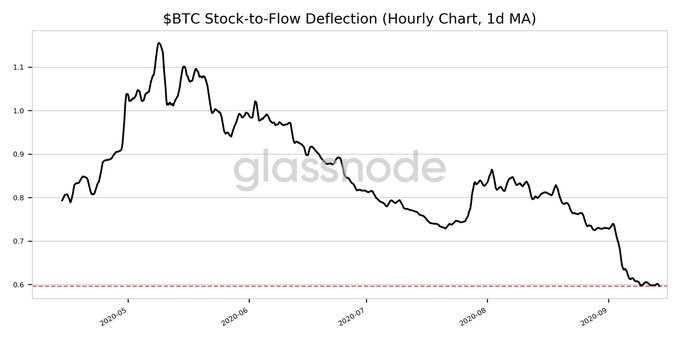 Source: Glassnode
Now, according to a recent Glassnode update, Bitcoin's Stock to Flow Deflection has registered a 5-month low of 0.596. The S2F deflection indicates the ratio between the present Bitcoin price and the S2F model. If the value is under 1 (as it is currently) then, according to Stock-to-Flow, it is currently undervalued.
However, as we approach the last quarter of the year, the deviation of Bitcoin from the S2F might significantly increase.
Bitcoin Stock-to-Flow levels now and what to expect in December 2020
As observed in the attached chart, Bitcoin has been overvalued and above the S2F ratio for only a brief period since 2017. If current levels are expected to be followed, Bitcoin needs to be valued at $17,060 by 1 October. That is a huge ask, one that would require Bitcoin to climb steeply by almost $7000 in just two weeks.
However, that isn't the main argument. The fact of the matter is that Bitcoin continues to lag behind the model, which is why the curve to meet the next targets are getting steeper and steeper by the week.
According to a recent analysis, the original S2F model suggested that Bitcoin would need to trade above $20K in May 2021, above $30K in September 2021, and above $50K in January 2022. However, according to the revised version released by PlanB, the S2FX model, the targets have been given an impetus, with the revised targets including $30k by May 2021, $90K by September 2021, and $200K by January 2022.
In short, Bitcoin would need to tail from just over $10,000, at the time of writing, to $200,000 by January 2022, to validate the theory of the S2F model. However, as difficult as it may sound, it cannot be completely dismissed. After all, in terms of growth, it is the same as Bitcoin's rise from $1,000 to $20,000 back in 2017. Hence, it isn't illogical per se.
Keeping that in mind, it is also important to note that Bitcoin's halving cycle is yet to impact its price in a parabolic manner, as it has in the past, which is why the probability of meeting those targets is still in sight.
With the cryptocurrency's present market price undervalued, under a rough estimation, the minimum value that Bitcoin needs to touch is $18,000 by the end of December 2020 for the S2F deflection value to be above 0.5. The actual desired value is $30,833 on 1 January, hence, any price point for Bitcoin under $18,000 will only invalidate the rationality of the Stock-to-Flow model.